Article highlights:

There are a lot of things to do in Ireland and many options for getting around the country, one of which is by train. In this blog article, we offer a travel guide to explore the Emerald Isle by train.

Why choose a rail tour to Ireland?
Fast
Travelling by train around Ireland is a fast way to explore the country. The journey for intercity travel is rarely longer than 3 hours.
Easy
Ireland has a good train network connecting all major cities and towns. By using Iarnród Éireann (Irish Rail), the rail network of the Republic of Ireland and Translink in Northern Ireland, it is easy to go on an Irish adventure in a safe and comfortable manner.
Comfortable
Wherever you travel in Ireland, the train is a comfortable option. You don't have to worry about the route, all you need to do is relax and enjoy the view, as some of Ireland's rail networks offer the best scenic train rides. Most trains offer excellent services such as free WiFi connection, catering, and power sockets.
Cheap if you book in advance
Travelling by train is not the cheapest options for getting around the country, but it can be if you book your train tickets in advance. By booking in advance, you benefit from reasonable fares and a guaranteed seat. You can view the different types of tickets and book them on the Irish Rail Website. If you decide to book a ticket when you are in Ireland, you can use the ticket machines or ticket offices at the train stations.
The most popular routes for a railway journey
Whether you are travelling long or short distances, Ireland has many scenic train journeys to discover. All the recommended routes below are among the most popular in Ireland and well worth trying if you want to enjoy spectacular views as you travel from one place to another.
Downpatrick to Inch Abbey
Make your way to Downpatrick in County Down in Northern Ireland from where the journey will start onboard a steam engine train. Inch Abbey is only 10 minutes from Downpatrick, but the journey offers magnificent views of the Mourne Mountains and the County Down countryside. Inch Abbey is a ruined monastic site and is one of the many locations in Ireland that was used as a filming location for the popular series Game of Thrones, if you are interested many other places in Ireland can be discovered on our Game of Thrones tour.
Derry to Coleraine
Still in Northern Ireland, explore the city of Derry and the city's 400-year-old walls, then join Waterside Railway for a 40-minute journey to Coleraine. From the beach to Binevenagh Mountain, you will enjoy impressive views of Irish wildlife along the way. You will pass through Ireland's longest tunnel which runs under the famous Mussenden Temple to Coleraine.
Dublin to Galway
Embark on a 3-hour East to West train journey from Dublin to Galway. The last part of the trip will amaze you with the views it has to offer. You will cross the River Shannon in Athlone to the Galway coast.
Dublin to Belfast
From one capital to another, the train journey between Dublin and Belfast is breathtaking. From Connolly Station, you will travel along the coastline of Malahide Marina before reaching the Northern Ireland countryside. Enjoy some of the best sights of Ireland as the train crosses the River Boyne, the UNESCO-listed archaeological site Brú na Bóinne and the 18-arch Craigmore Viaduct.
Howth to Greystones
From Howth, a small but interesting sea town not far from Dublin, hop on the train to Greystones to experience one of the most beautiful train journeys in Ireland. Follow the Irish Sea coast past the beautiful towns of Sandycove, Dalkey, Killiney with its particularly beautiful bay and keep your eyes peeled during the last 10 minutes of the journey, from Bray, Co. Wicklow to Greystones as the views are well worth admiring.
Killarney to Cóbh
Begin this journey at Killarney, a must-see town surrounded by incredible nature before continuing to two of County Cork's most famous locations, Cork City and Cóbh (pronounced "Cove"). The journey between Cork city and Cóbh is short, only twenty-five minutes, but it is one of Ireland's most scenic rail routes. You'll enjoy views of the Belvelley Canal and the Atlantic Ocean before catching a glimpse of St. Coleman's Cathedral on arrival in Cóbh.
Can I see everything on a rail trip?
Travelling by train around Ireland allows you to see a lot as Ireland's major cities and towns are served by train. The Ireland rail's network make it possible to travel from the North to the South and from West to East of Ireland to discover the many varied landscapes the Emerald Isle has to offer.
However, travelling only by train in Ireland has its limitations. The Irish rail network has improved in the last few years, but some counties worth visiting such as Donegal, Monahan and Cavan have limited or no rail services at all. Also, several must-see places such as the Wild Atlantic Way, the Aran Islands, the Cliffs of Moher are not accessible by train. The only way to discover these impressive places is by car or coach. Travelling on a partly-guided rail tour allows you to take many of the scenic train journeys mentioned above as well as visit some inaccessible by train attractions as a guide will accompany you on a coach tour.
We offer different partly-guided rail tours throughout Ireland. These tours include scenic railway journeys and excursions to Ireland's best attractions such as the Cliff of Moher, the Aran Island and many more. Take a look at our Ireland rail tours to find one that is right for you.
Alternative: Self-drive tour in Ireland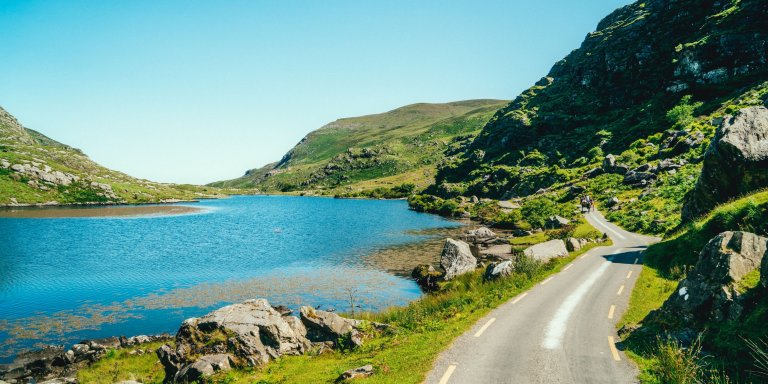 An alternative to visiting Ireland by train is on a road-trip. Renting a car and exploring Ireland on your own allows you to go off-the-beaten-path and discover all Ireland's treasures not accessible by train.
Before you plan to travel to Ireland and rent a car, make sure you are legally able to rent a car. Most rental companies will require:
Travelling in Ireland by car can be expensive as many motorways have tolls however it is possible to avoid motorways, but this will take longer.
If it is your first time driving in Ireland, be aware of any new road signs you may come across on your trip and remember that in Ireland, we drive on the left-hand side of the road.
See our self-drive itineraries.
By Lisbeth Wahl / Aug 31 2023