Article highlights:

Numerous options exist for planning a trip from Paris to the South of France, with various noteworthy destinations along the route. In this blog article, we'll try to go through and answer the three main questions below, as well as give you some itinerary ideas.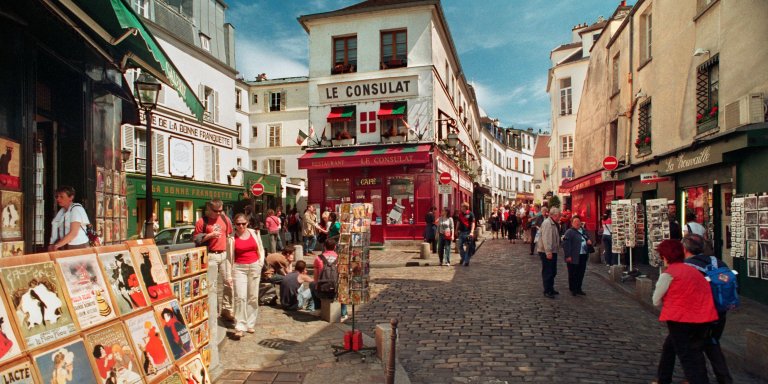 There are a few ways to get from Paris to the South of France, each offering its own benefits. Whether you're looking for speed, convenience, or a chance to explore as much of the French countryside as possible, there's an option that will suit your preferred way to travel. In this guide, we'll explore three popular ways to travel to the South of France: by train, by car, and by aeroplane.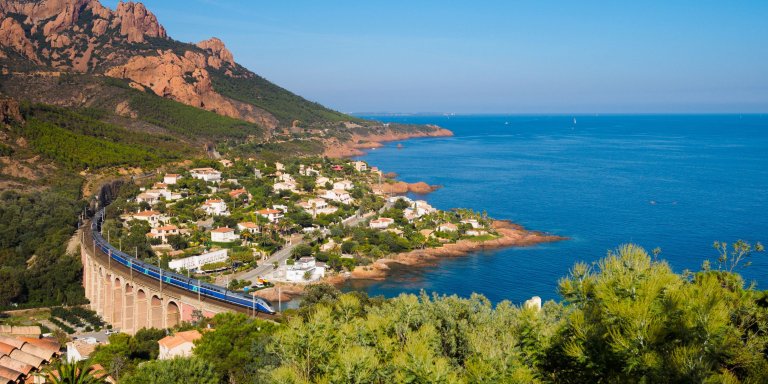 The train is one of the easiest and fastest ways to travel from Paris to the South of France. By taking the train, you can also enjoy the marvellous views of the French landscape. It will take you only 6 hours to get to Nice if you take a direct train. Upon approaching Nice, during the last 2 hours of your journey, the train ride offers the most picturesque views of the route along the Riviera. However, we highly recommend taking the extra time to stop a few times along the way. You can take several routes, each offering you a variety of spectacular places to discover.
Driving from Paris to the South of France is an excellent alternative to the train. It will take around 9 hours if you follow the major highways. Driving on the highways will not offer you the most picturesque views and you will have to pay several tolls during the journey. Therefore, we recommend taking your time and choosing countryside roads where you can also make many photo stops along the way. Driving to the South of France allows you to decide when and where you want to stop and visit without having to follow a set schedule.
The quickest way to get from Paris to the South of France is by flying. Charles de Gaulle Airport Paris, Paris Orly Airport and Paris Beauvais Airport are the three airports close to Paris from where you can catch a flight to the South of France. You will fly to Côte d'Azur Airport, located in Nice, France's third most popular airport. Thanks to its location, it is fast and easy to travel to the French Riviera: only 1.5 hours. Once you arrive in Nice, you can take the Lignes d'Azur trains or the airport shuttle bus to reach the city centre. Marseille and Montpellier also have direct flights from Paris.
Now that you know how to reach the South of France from Paris, we want to take a moment to highlight the breathtaking regions you will encounter on your visit, each with its unique charm and personality. From bustling coastal cities to quaint countryside villages, France is home to some of the most enchanting places in the world. Join us as we share our favourite highlights and must-see destinations, ensuring that your journey to the South of France is nothing short of unforgettable.
Paris the iconic French capital
Discover the city of love and lights. Whether you're an art lover, a foodie looking for the perfect pastry, a history buff, or simply looking to snap memorable holiday snaps – you will find it all in Paris. Here are our must-sees in Paris:
The Eiffel Tower

Art Museums: Louvre, Museée D'Orsay

Notre-Dame Cathedral

Arc de Triomphe

Sacré-Cœur Cathedral & Montmartre Neighbourhood

Luxembourg Gardens & Tuileries Garden

Champs-Elysées Avenue

Seine River Cruise
Are you looking to explore Paris without breaking the bank? Look no further! Our team has curated a list of the Top 10 Free Attractions in Paris that will have you experiencing a great many things the city has to offer.
Explore Burgundy's villages and vineyards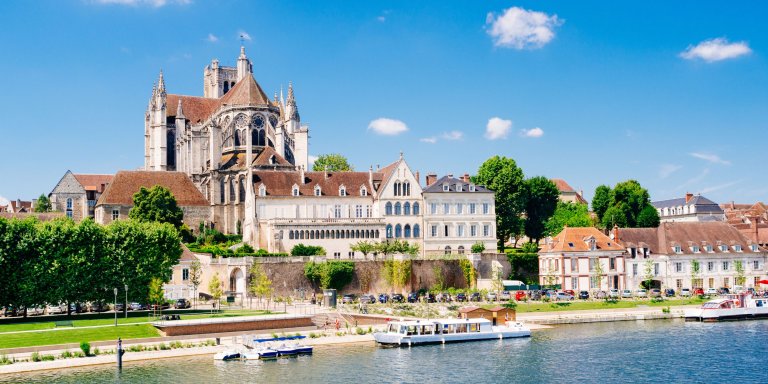 In Burgundy or 'Bourgogne' as the French say, you will get your first glimpse of the charming French countryside and its winding rivers and canals, dense forests, lakes, and hillsides. Bourgogne will simply amaze you with its delightful landscapes and a great variety of wines and world heritage sites. Here are our must-sees in Bourgogne:
Dijon, the capital city of Burgundy

Auxerre, the entry door to Burgundy from Paris

Beaune, the 'wine capital' of Burgundy

Famous vineyards (Côte d'Or, Côte de Nuits, Cote de Beaune...)

Morvan Regional National Park
Experience Auvergne-Rhône-Alpes' powerful nature
In Auvergne-Rhône-Alpes you'll find some of the most stunning mountain ranges, charming medieval villages, and scenic lakes, all waiting to be explored. But that's not all; the region is renowned for its world-class skiing, delicious local cuisine, and world-famous vineyards. Here are our must-sees in Auvergne-Rhône-Alpes:
Lyon, the 2nd largest city in France and capital of gastronomy

The Alps and Mont Blanc

Auvergne and the Puy de Dôme volcano

Ardèche, the gorge and the caverns

The charming city of Annecy and its lake
Explore Provence-Alpes-Côte d'Azur's hidden gems
As you approach the French Riviera, you'll reach the stunning region of Provence-Alpes- Côte d'Azur. This southern gem is famous for its vast lavender fields, rugged maquis-covered cliffs, and picture-perfect Mediterranean beaches. Here are our must-sees in Provence-Alpes- Côte d'Azur:
Avignon, a historic city in Provence known for the Palace of the Popes

Luberon Regional National Park and villages

Aix-en-Provence and Cassis with a boat cruise of Clanques National Park

Marseille, the third-largest city in France

Antibes, a picturesque town on the Riviera

Saint-Tropez a glamorous coastal town

Cannes, a resort town on the Riviera famous for its film festival

Nice, the capital of the French Riviera
France offers a year-round destination that caters to all types of travellers. Whether you're interested in exploring museums, hiking, relaxing on the beach, or hitting the slopes, there's something for everyone. Each season has its unique advantages and drawbacks. So, let's explore the seasons and their benefits to help you plan your ideal itinerary to France.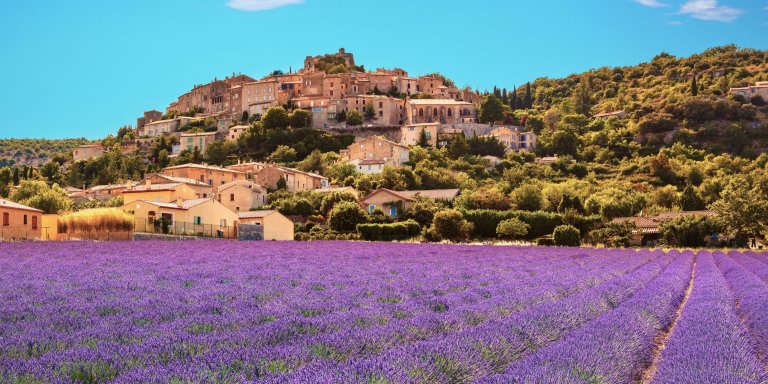 Summer (June, July, August & September)
The peak season for tourism in France runs from June to August, so if you're ready to brave the crowds, summer is a great time to soak up the sun and experience all the region has to offer. The weather in the South of France during summer is unbeatable. Expect plenty of sunshine, with temperatures often reaching up to 30-40°C.
Mid-June to mid-July is the lavender season in Provence when the fields turn a picturesque shade of purple. Summer is also the perfect season to enjoy outdoor activities such as lounging on Mediterranean beaches or strolling through one of the many charming summer markets. And if you're a fan of music, you'll find plenty of festivals to check out, such as the Menton Music Festival. But because it's high season in France, a lot of French people decide to take their holidays in the South of France, which can lead to crowds and higher prices, particularly in July and August.
Autumn (October & November)
The temperatures in autumn are cooler than in summer, ranging from around 8-15°C, but you can still expect plenty of sunshine. You might experience a bit more rain than in the summer, but it won't spoil your trip. One of the best things about travelling to France in the autumn is that there are fewer crowds.
Autumn is also the perfect time for outdoor activities like hiking or biking in the mountains, where you can enjoy the stunning autumn foliage. It's also a great time to explore vineyards and taste some delicious French wines. You'll find that the cooler temperatures make it more comfortable to go on long walks and indulge in the local cuisine. However, one of the downsides of visiting the South of France in the autumn is that the sea might be a bit too cold for swimming, so you won't be able to enjoy the Mediterranean waters as you would in the summer. But don't worry; there are plenty of other activities to keep you entertained.
Winter (December, January, February)
Winter in France is peaceful and quiet, which means you can enjoy a more relaxed and laid-back atmosphere. December is the perfect time to immerse yourself in traditional Provençal Christmas markets and festivities, with charming villages and towns decorated in sparkling lights and decorations.
If you're lucky enough to be in Nice in February, you can experience the vibrant and colourful Nice Carnaval or the Fête du Citron (Lemon Festival) in Menton. Winter is also the ideal season for sports enthusiasts, with skiing and snowboarding opportunities in the stunning French Alps.
Spring (March, April & May)
Temperatures in spring range from 8-20°C and there are plenty of sunny days. Although there might be some rain in March and April, the rest of the season is usually dry and bright. Historic cities are at their best during springtime, adorned with colourful flowers. Even though lavender isn't in bloom, you'll be able to see the magnificent wisteria.
If you're looking for a quieter vacation, spring is the perfect time to visit, as it's less crowded than the peak season in summer. In May, the glamorous Cannes Film Festival takes place, and it's a must-see event for movie lovers. While the temperatures are milder in spring compared to summer, they can still fluctuate. And, as mentioned earlier, there can be more rain in March and April.
By Emmanuel Lefèvre / Apr 18 2023